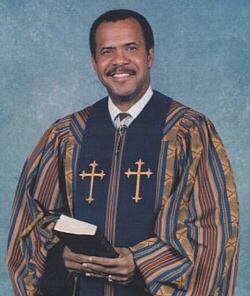 Pastor Ralph White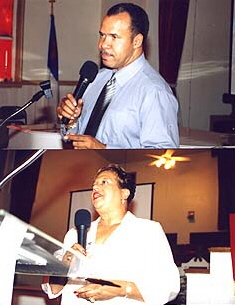 Pastor White & Mrs. Janet White

Click here to see a pictorial of the Bloomfield Investment Summit
Bloomfield Full Baptist Church has "Come this far by faith." In the year of our lord 1898, a group of seven people met in a Christian fellowship service. A congregation was formed and Bloomfield Baptist Church became a reality in a vicinity of Memphis then known as "Frog Pond."
Bloomfield Baptist Church has come a long way since it set sail in 1898. This old ship has made three landings; first, the ship sailed out of the harbor of "Frog Pond" from an old dwelling house and landed on Virginia Avenue. Its second voyage took it to 1241 Kansas Street where it anchored for 38 years. In 1954, October 17, it dropped anchor to make another landing at 123 South Parkway West. Amidst life's stormy sea, no wind of persecution has been able to wreck the Old Vessel. For 56 years neither storms, nor waves of trouble have caused it to run aground.
Our Captain is Jesus Christ, who knows the waves of all waters and the depth of the seas; founded the Church on a Rock and said, "The Gates of Hell will not prevail against it." At this church, He has assigned seven pilots to guide this ship to safe landings. The membership gives God praises in the highest degree with a deep sense of gratitude in our hearts for the fine leadership of the old Pioneers. With a humble spirit, we maintain love in our hearts for the principles that the Church stands for, which is, education and Little by little the Bloomfield Baptist Church has made a high mark of progress. We have let our anchor down into the hope of a "Risen Savior" and we are "wearing the badge of love, waving the flag of faith, crying Hosanna, victory, realizing that the Lord has done great things for us, whereas we are glad!"
WE ARE BLOOMING WHERE WE ARE PLANTED!
Reverend Ralph White has served as of the Bloomfield Baptist Community for the past fourteen years.
Pastor White: "I am honored to have been called to serve as Pastor of such a great church, and such a great group of people, and for all that has been done," "to God be the Glory."

Click here to see a pictorial of the Bloomfield Investment Summit

Segment one

Segment two