Investing in The World's Greatest Spectator Sport.... Auto Racing



African American Groups Make Move in Major League Auto Racing
Auto Racing is the largest spectator sport in the world, accounting for literally billions of dollars in commerce and entertainment yet African American entrepreneurs have been almost totally non-exitent in this arena. Except for Driver Willie Tibbs a few years ago there has been no other credible effort controlled by African Americans in major motor racing until now. Currently African American incursions into this arena are relegated to three teams attempting to break into major U.S. racing series. The three teams headed by Bruce Miller, Tony Pachot and Marc Laidler represent three very courageous entrepreneurs based on the tremendous investments needed to successfully compete at these top levels of auto racing.
Miller and Pachot are aimed at breaking into sports car road racing with the American Le Mans Series and the Rolex GrandAm Series and have yet to actually field their entries in a race. Both are poised to do so soon however and will bring their significant experience of the sport to these U.S. racing series with an eye to eventually competing internationally in races like the famous French 24 hour Les Mans race.
Laidler has taken an alternative route moving into the open wheel Indy Racing League Series (IRL) which is one of three prototype open wheel series at the major racing level. Other major open wheel racing series include the internationally based Formula One series (F1) and The Championship Auto Racing Team Series (CART). Laidler owner of a high end Auto Customizing Los Angeles based company with many African American Sports Stars as clients has leveraged the support of many of these celebrities for his 310 racing team. He has also brought on board former Go Kart Champion George Mack who now has the distinction of being the only African American driver currently active in major US auto racing. In his first IRL start at Homestead Raceway Mack finished a respectable thirteenth in a large field at the the 20th Miami Grand Prix. Now with several races under his belt Mack is primed to compete at the greatest spectacle in U.S. auto racing the 2002 Indianapolis 500 on May 26, in Indianapolis.
The Laidler led 310 team with George Mack at the wheel has been a major undertaking with Laidler putting together some impressive resources to bring the effort to the present point. Not many African American business enterprises have had the fortitude to enter the world's most expensive sport, and particularly so at the IRL level where millions of dollars are required just to compete.
Stay Tuned. More to come....
Auto Racing Fans Attracted to Resurgence in Scale Model Slot Car Racing....

The 1960's and 1970's saw an explosion in the exciting world of model scale slot car racing where race fans were first able to live out their racing dreams and talents with scale duplicates of their favorite Can Am and Formula One cars. Today after a decline in the 1980's there is a major resurgence in the hobby/sport primarily due to the Internet and computerized timing and recording of slot car race performance and even more realistic models of the real race cars.
Although slot car racing has been around since the 1950's many hobbyists, and even model car and auto racing enthusiasts are still unaware of this tremendous hobby/sport. Slot car racing has developed into one of the world's greatest and most fascinating pastimes, one that is safe, inexpensive, family oriented and practiced by individuals of all age groups, from involvement at the toy car level to the professional racing levels.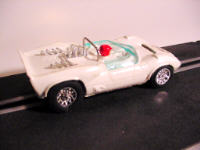 A Can Am series Strombecker Chapparral model slot racer from the 1960's.
Modern slot car racing allows home based and commercial race enthusiasts to compete with ready to run or specially built and engineered cars on home or commercial tracks. Today modern slot car racing is enhanced with high technology and computerization of the building, engineering and racing process, providing even more fun and excitement to an already exciting pastime.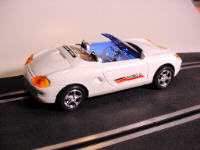 A Porsche Boxter model slot racer
New computerization has allowed races to be timed to 1/1000 seconds with numerous racing features, sounds and opportunities available to the modern slot car racer. These enhancements supplement the traditional engineering of these fast scale replicas of the full size racing cars where slot racers increase their cars' performance by engineering and retrofitting their cars' motors, tires and aerodynamics just like in full size racing.

The beauty of the scale model race cars which today are exact replicas of the full size cars, has increasingly become an attraction to the hobby/sport. Like its 1:1 counterpart Auto Racing the world's number one spectator sport, modern slot car racing is enjoyed around the world and with the advent of the Internet its following has exploded and is burgeoning worldwide.

Click here to see a complete overview of this exciting hobby/sport